Our inaugural National Intergenerational Workplace event this week was a huge success. Thank you to our speakers, panellists and attendees for making it such an engaging and insightful event. If you couldn't attend, Tony Devine has put together the highlights from the event for you: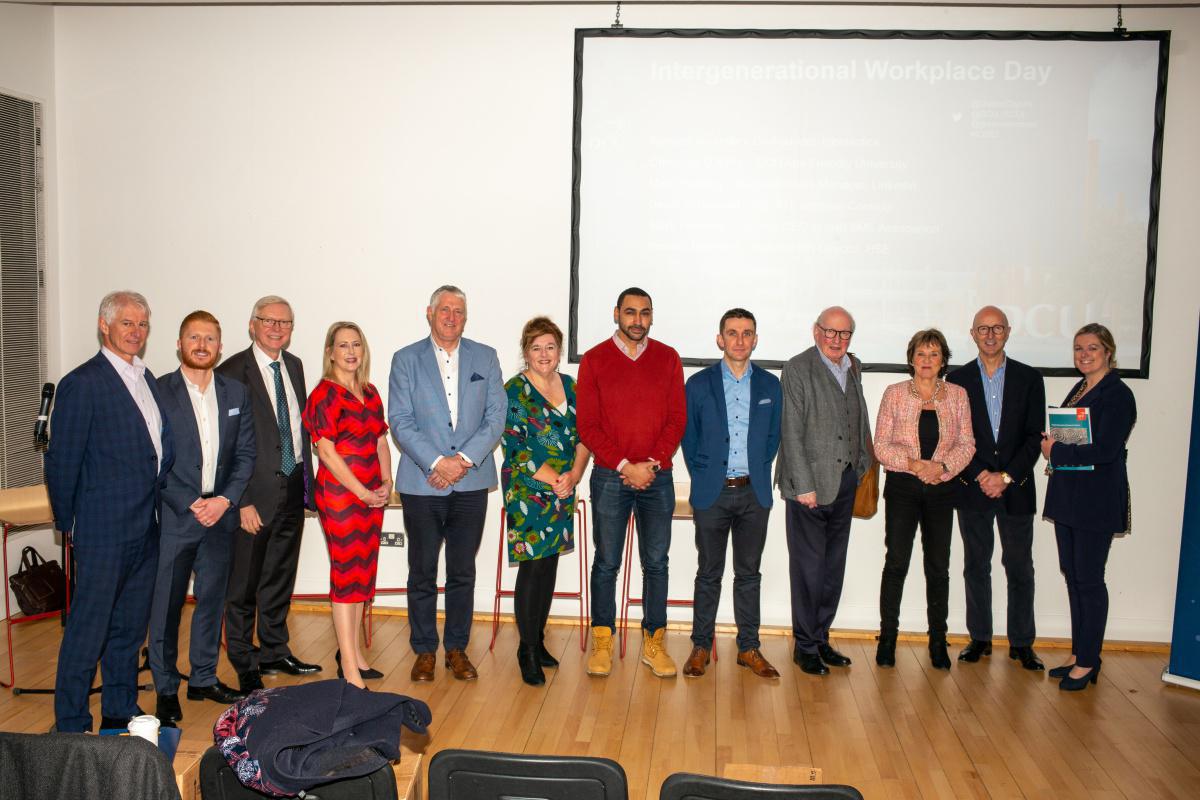 National Intergenerational Workplace Day
Nov 20th 2019
We had a fantastic inaugural event in the Helix at DCU yesterday which celebrated and explored Intergenerational Workplaces.
Conall O'Moran the MC for the day, got things underway to a packed audience who had braved a wet and windy morning to do battle through the rush hour traffic.
The impressive line-up of speakers and panellists presented and discussed compelling facts that supported the hypothesis that Intergenerational teams were better teams in so many ways.
Proceedings were formerly opened by Declan Hughes of GMn telling the story of a business that was created over a coffee five years ago by three 50-somethings who had a vision for the future of work that would fully embrace the mature professional worker. That vision involved commercially leveraging the experience of other 50's plus professionals for the benefit of organisations who could benefit from such experience whether engaged on an advisory basis or on a longer-term assignment. With a network of Associates now closing in on 500 the conversation has moved on to intergenerational teams and how GMn can support organisations to achieve the benefits of age-diverse teams.
Sarita Johnson, new to the DCU Centre of Excellence explained the role of her team who focus on D&I. Sarita re-iterated the importance of the intergenerational workplace to the centre and also made a shout out to the attendees for support for the team's research efforts in this area. "When you have diverse teams, you have diverse ways of thinking" Sarita Johnson, DCU Centre of Excellence
The audience was then treated to a highly informative analysis of demographic trends and their implications by Anne Connolly, CEO, Smart Ageing Living Labs of Ireland. While Anne acknowledged that more research is needed in this area she was nonetheless able to point to a series of highly relevant data points. These included facts such as:
Ratio of retirees depending on those employed going from 1 to 6 a mere ten years ago to a 1 to 2 ratio by 2050.

We are living longer, 20 years longer than our parents and over 50's will shortly outnumber under 50's.

At the same time, she highlighted the opportunity that in Ireland only 3.2% of over 65's are in the labour force, in Japan it is 27%.

Further jaw dropping data was shared concerning our neighbours in the UK whereby there will be a demand for 13.5 million additional workers over the next 10 years while the schools and colleges will provide only 7 million of these. Immigration, without Brexit, cannot fill the entire gap so an obvious answer is the older unemployed or under-employed worker.
With our heads full of data and facts we were in no doubt that we needed to explore other sources of labour while also reducing the dependence on the state.
Hence Professor Mark Morgan, took to the stage to explore the opportunity that is the older worker, as personified by himself. He exposed a number of myths as being unfounded in fact and explained that research tells us that being older does not actually diminish cognitive capacity indeed certain capabilities are stronger thanks to all the knowledge and experience we have accumulated. He himself amply demonstrated this point. Professor Morgan also provided evidence to support the value of the various generations working collaboratively together.
With the context now set for the Intergenerational Workplace it was over to Tony Devine of the GMn to explore the implications and to pose a number of questions. Five constructs were presented for consideration for the panel discussion to follow.
Research has established that adults adapt their VALUEs based on their three stages of life from a starting point of desiring stimulation and new experiences to 'making it at work' and establishing relationships through to a more conservative set of values.

Then there is the construct of TIME, it is perceived differently depending on age and emotional state, it can either be perceived to be moving slow or fast. The one thing that research tells us is that as we get older, we are more accurate when estimating time.

In a theme common to previous presenters, Tony also talked to STEREOTYPES and suggested there needs to be less Boomer vs Snowflake and more collaboration. The emphasis needs to be placed on the value inherent in the individual no matter what the generation.

The fourth construct discussed was AGE. The recently published ESRI report on the Ageing Workforce talks about three definitions of age, chronological (years since born), biological (physical mobility and cognitive dexterity) and Social. The latter is where perception and therefore unconscious biases arises.

Lastly, one of the world's leading thought leaders on intergenerational teams, Chip Conley was quoted. Conley tells us that the younger generations have an undoubted digital strength, he refers to them as 'digital natives'. They possess DQ (Digital Quotient/Intelligence). The older generations tend to have a more developed EQ (Emotional Intelligence). Clearly one generation complements the other, DQ+EQ=a blend for success.
We were then joined on stage by an excellent panel which was hosted by Conall. Our panel participants:
Kareem Mostafa - Co-Founder, tribetactics

Christine O'Kelly - DCU Age Friendly University

Mark Furlong - Regional Sales Manager, Linkedin

Derek O'Connell - VP of IT, Johnson Controls

Mark Fielding - formerly CEO of the Irish SME Association

Rosarii Mannion - National HR Director, HSE
Great insights were provided by each of the panellists in response to challenging questions posed by Conall. Some views that were shared was that recruiters needed to be more open to considering all generations for work opportunities of various types. A further point was that companies such as LinkedIn and Johnson Controls had active age diversity programmes already in place. It was also emphasised by all panellists that in their experience companies do not have a formal policy in place that discourages creating intergenerational workplaces although there was a general acknowledgement that unconscious biases do exist and its going to take time and awareness to address.
"There isn't room in the workplace for competition, it needs to be about collaboration. The sum of the team is the most important"
Rosarii Mannion, National HR Director, HSE
A great morning's discussion finished up with Mick Furlong (GMn) announcing the provision of an App for customers of GMn to access its near 500 Associates.
It was very clear from the feedback provided that this was a very worthwhile event and planning for Intergenerational Workplace Day 2020 has already commenced.
If you or your organisation would like to join the growing list of supporters or participants for the next phase of the Intergenerational Workplace movement please contact us