GMn Associate, Teresa Stapleton, offers a view on trends in Performance Management.
An estimated two-thirds of companies still conduct annual performance reviews, despite extensive research and employee feedback which suggests that they are outdated. What most companies hope to get from performance management is engaged, motivated, high-performing employees and business success. But the reality is that annual and bi-annual reviews fall well short in supporting these aspirations. They typically involve time-consuming and detailed write-ups of past performance, which have little impact on future results.
More and more companies are questioning the value of analysing past performance based on goals set 12 months ago and rating individual performance on a scale to determine rewards. Most managers and staff dread the whole process. Research by Willis Towers Watson found that only 48% of employees report that performance reviews have helped improve their performance, and just 52% think their performance was accurately evaluated.
There is widespread consensus that ongoing performance management and the provision of feedback and coaching is a better approach to creating an engaged, motivated workforce. However, the challenges involved in replacing the annual review process, which has been embedded in organisations for many years, can seem daunting. Over the last ten years, several companies have successfully done just that – transformed their performance management processes to re-energise their organisation and employees. While there's no one-size-fits-all solution, the following themes are worth considering when re-thinking performance management.
Performance management philosophy
The starting point for changing any process is deciding what you want to achieve. Defining what specific behaviours, values and results you want to encourage, and whether individual accomplishments or team collaboration – or indeed, a mix of both – will be recognised and rewarded is a good first step. Many companies share their vision, values, culture, performance management philosophy, and employee development approach on their websites as it is where prospective candidates go to get a feel for the company and whether it would be a good fit for them.
The traditional levers for recruiting and motivating employees are attractive pay and benefits, competitive bonus schemes, job security and career development prospects. Also, employee engagement and employee experience are increasingly recognised as being of equal importance to attract talent and drive productivity. Some companies have adjusted their rewards model to empower managers to offer smaller incentives more regularly when goals are achieved. Others offer training, educational support, or development programmes to reward strong performance.
Providing a positive working environment where employees feel that their work is meaningful and their contributions are valued are now seen as central to attracting and retaining talent. Senior leaders and managers have a critical role to play in building an environment and culture where their teams enjoy coming to work and are committed to delivering exceptional results.
Performance appraisal model
Companies often adjust their performance management approach over time to reflect changing economic conditions and the latest thinking on business leadership. The bell curve system of performance appraisal, which was widely used for decades by large companies, has been abandoned by most. This model forces managers to rank employees into a bell-shaped distribution curve, with 20% high performers, 70% middle performers, and 10% low performers.
The advantages of the bell curve model are that it helps managers differentiate rewards based on contribution and forces them to tackle low performers. However, the drawbacks of the model are generally believed to outweigh the benefits as it can create unhealthy internal competition to be a top performer and get high rewards and undermine collaboration across teams. It was also viewed as unfair and demotivating to employees pushed into the 'middle' or 'low' categories to hit the numeric requirements of the curve if this does not reflect their actual performance.
Many companies have replaced the bell curve model with less rigid approaches that focus on continuous performance management, providing real-time feedback and coaching to improve performance and support personal development. Some companies have even dropped performance ratings altogether as they focus performance discussions too much on past events, shifting instead to highlight learnings from past experiences and create personal development plans for each employee to increase future impact.
Objectives and key results
There is a real art in setting meaningful and achievable targets that motivate staff to deliver great results. The biggest challenge is often distilling the broad range of activities each employee is responsible for to highlight the objectives that will contribute most to the overall success of the business.
All too often, individual commitments or goals are a long list of activities and deliverables, making it hard for employees to see what is truly important and creates the most impact. Including granular details of job responsibilities or adding broad commitments that apply to all employees, while well-intentioned, often dilute the focus on clear, meaningful, personalised priorities. A growing number of companies like Google, Intel and LinkedIn have adopted the 'Objectives and Key Results' (OKR) framework to align company, team and individual goals and set targets. The process involves defining three to five objectives for each individual, with key results that are usually stated as numeric targets or other clear measures to track progress. While setting clear expectations upfront is essential, it is just as important to update them regularly to reflect changing company priorities and business direction.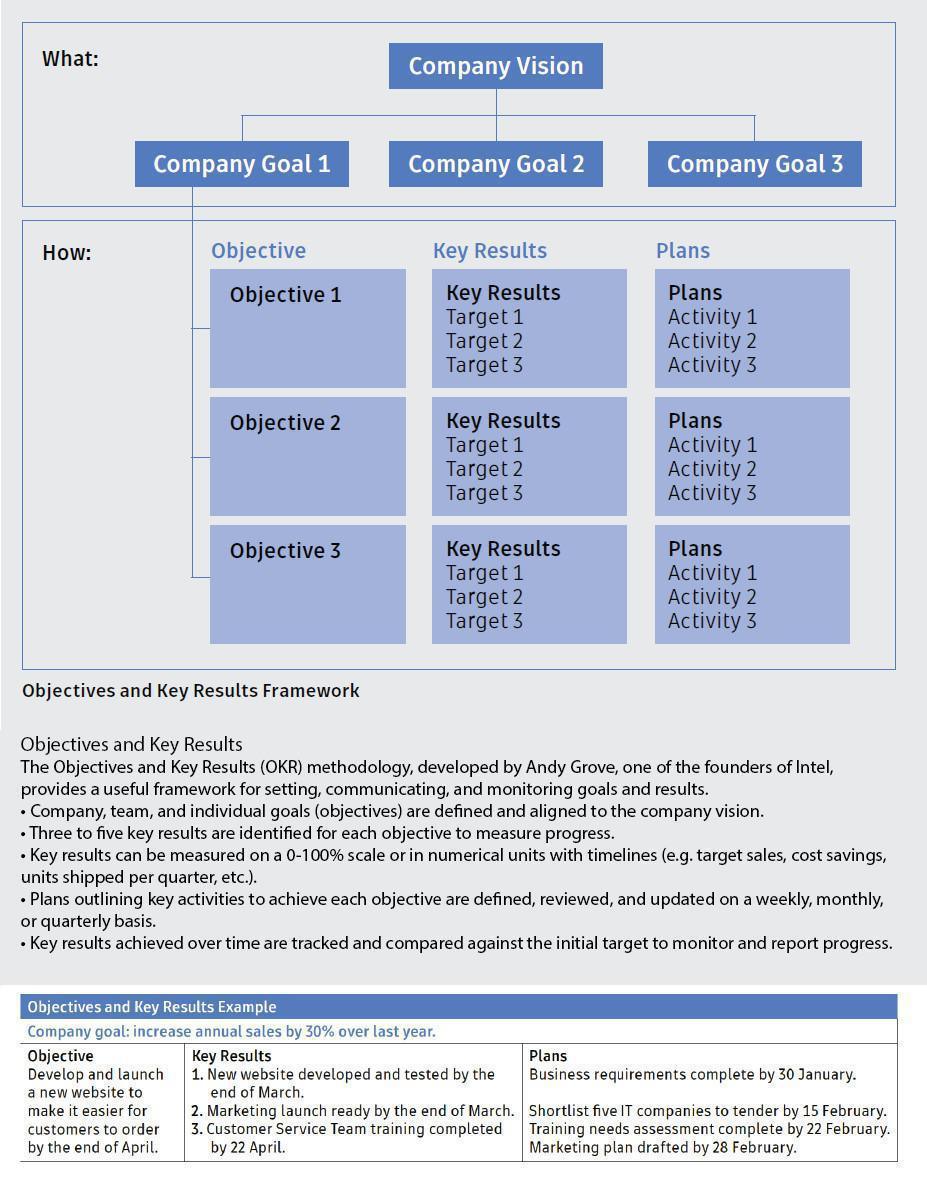 Regular performance check-ins
Managers play a crucial role in setting their teams up for success by getting to know the strengths and capabilities of each team member and matching each individual's skills to meaningful goals. Open communication is essential to set performance expectations, stay aligned on progress, and provide real-time feedback to address issues before things go off course – or to capitalise on opportunities to do things quicker or better.
Performance and development discussions should take place on an ongoing basis and not be reserved for a formal review meeting once or twice a year. If regular check-ins are happening, there should be no surprises when it comes to performance assessment and rewards discussions.
Most companies have performance management tools to track and monitor performance processes. Automated systems can also help streamline the process of capturing peer-to-peer feedback, highlighting blind spots or behavioural issues that managers should address.
Conclusion
Modernising performance management requires re-thinking the whole employee/employer value exchange. Employees want to do meaningful work, aligned with their values, where they feel they can grow, flourish and be justly rewarded.
Senior leaders and managers have a critical role to play in creating a high-performance culture with loyal, engaged, and motivated employees to sustain business growth and long-term success.
Teresa Stapleton is an Executive Coach at Stapleton Coaching